Staff
Our dedicated staff members are here to provide support, compassion, and information to help you through your journey of grief and the celebration of your loved one's life.
Oakwood Family Funeral Home & Crematory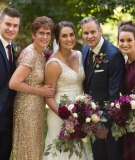 John (JR) Jaskulske
Owner & Funeral Director
John "JR" Jaskulske, Funeral Director/Owner
About Me
I was born and raised in Racine, WI. I'm often asked why I chose to become a funeral director. I actually began considering the profession after taking a career aptitude test in sixth grade. The test was designed to help give students an idea of the career path that might best suit them. Based on my qualities and interests the test determined that I should follow a "service" orientated path. One of the choices the test offered, in that category, was in fact a funeral director. I decided then, at the age of 12, that I wanted to become a funeral director. The interesting part about it is that I would have to wait 7 more years before I would experience a death or even step foot in a funeral home. None the less I followed this calling and completed my degree in Mortuary Science at the University of Minnesota in 1986.
During the past 32 years, I have come to truly believe that as a 12-year-old boy I was "called" to this profession. I have helped so many people through so many life-changing situations that it's hard to deny this. A funeral director must be so many things to the families he/she has the privilege to serve.
As a young boy, I showed a real love of art. During the summers my mother would send me to a local art school. I didn't realize then how much the skills I was learning then would benefit so many people later on. When a person dies, the circumstances surrounding their death can often rob them of their own identity. Old age, disease, and trauma can ravish a person's body and render them unrecognizable. Through my talents, I am able to restore a person's appearance with dignity. I consider this sacred work.
Psychologists have proven that traumatic events introduce a certain amount of chaos into our lives and that the lingering effects of this chaos are what most people refer to as grief. They also tell us that the need to "see" is tied to our need to bring order out of chaos and in doing so to minimize the long-term grief that is associated with the traumatic event. Viewing the body of the deceased plays an extremely important role in moving a person through the five stages of grief in a healthy way.
If someone you care about passes away you can never avoid grief, you can only move through it. Seeing the remains of a loved one is an undeniable confirmation of the death. For those who are stuck in the first stage of grief (i.e, Denial) it empowers them to move forward through the grief process and to eventually heal from the loss. I know that what I am able to do for a family will give them a good start towards healthy grief. That is why I became a funeral director!
About My Family:
My wife Jackie and I have three grown children. We raised our family in Maplewood and were actively involved in our children's sports and activities throughout the years. Jackie is a teacher in the North St. Paul, Maplewood, Oakdale School District.